Alfaraz Madrid, ceramics by Miguel Duran-Loriga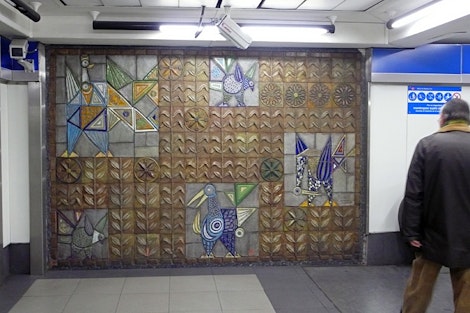 The Alfaraz pottery (Spain) was founded in 1952 by Miguel Durán-Lóriga who specialized in mural ceramic decorations.
In january I took the metro line 6 (the "circular") in Madrid and ran into a wall by him deep under the spanish capital. It was as if the ceramic tiled wall, surrounded by surveillance cameras, represented a magic gate to another world (probably a slower world). This anachronistic, almost archeological experience might be similar to how Lord Carnavon felt when he discovered the tomb of Tutanchamon about a hundred years earlier in Egypt... The people hurrying around me did not seem to notice the wall at all, the high glazed fantasy birds standing in the tall grass, fishes swimming in the water surrounded by flowers, just a beautiful, strong message of Duran-Loriga's late 1960's vision. Lonely framed and surrounded by impersonal objects and cold decaying materials in turkish (fluorescent) light. The next day I took the bus to Toledo and encountered another wall (picture 3) while tranferring stations on the circular. There is also a mural in the metro station "Republica Argentina". There maybe more walls to be discovered.

It is a pleasure to share these impressions with you and whenever you are in Madrid, don't miss the opportunity to visit the metro caves and feel a bit like Indiana Jones.

Signed lower right: "MDL Alfaraz Madrid 74"