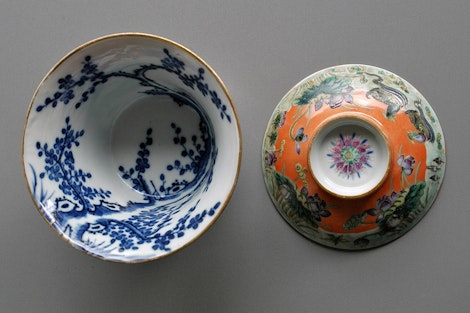 Finally the energy, courage and some knowledge (56 books later) was found to create this section. The pieces in this section were bought at auctions, fleamarkets and antique fairs. Some came from my family that was stationed in Indonesia, Batavia at the beginning of the 20th century. In 1946 they had to return to Holland and took their most cherished belongings with them. One of these was a gold coin of the VOC (see picture), which reminds me of my heritage and the past of my family.

Later in life I had enough money and time to travel to China and could visit the country 9 times. I went to many village and big city museums and could compare pieces there with mine. An important experience is to hold these pieces in your hands and feel their structure with your fingertips. Also the penetration of light through the glaze layer into the porcelain is only to be seen from up close and through a magnifying glass. Mostly the museum personnel was willing to open the vitrines, when asked for, so their treasures could be studied up close! For your conveniance, a list with book titles will be added. It might be useful to you, when you are as crazy as I about the incredible quality, craftmenship and creativity with which these pieces were made...

What is even better: we can still use them, drink wine out of them, put flowers in them or eat müsli from them. As a novice and eager to learn, not all information will be correct, but I will do my best and modify the data regulary.

Chinese hospitality: often invited as a guest of local families, they showed me their ceramics and it was wonderful to share their culture. I want to thank especially Leezhong from Liziyuan and Pieter DeHaan from Jiangmen for initiating me to the "Chinese Way".

Happy browsing! Nic (Wu Ming Zhi Pu).