Amazing find: Italian? Fantoni? 50's vase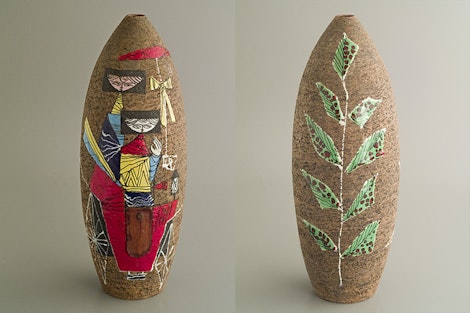 May 2010

Last week of may: one of the local fleamarkets in the lake Geneva area, very early in the morning, I found this amazing "chamotte" clay vase from the 1950's. The unusual form ("obus" in french), the stylized handpainted decoration and the integration of a leather patch, made my heart beat faster. The price was Sfr. 10.- (around $9), which was an extra to the pleasure. Turning the vase around and examinating it more closely, there was no signature to be found. Not to the base, neither to the sides. A mystery. The rugged chamotte structure was not helpful, but there might be a slight signature to be discovered in the glaze.

We will see, one day it will reveal it's secret and I am hoping that an italian ceramic lover recognizes the maker and communicates it to me! Size: H21cm D12cm, orange glaze inside.